Hamptons Cottages & Gardens
July Issue
The Art Of Living
page 216 
My partner John McGovern built his dream house in 2005 and we met in 2006. He always wanted to have the house featured and years later it felt right. I had a conversation with Kendell Cronstom of HC&G and He proposed the possibility of the feature incorporating the home and my art.
Timing was everything! After one perfect, sunny day of shooting, a phone interview and some follow-up we were gifted with an issue more beautiful than We could have imagined. John and I are so grateful to: Editor-In-Chief, Kendell Cronstrom, Writer, Cindi Cook and Photographer Marili Forastieri, and their associates who were helpful and patient during the whole process. See link above for complete feature and more images.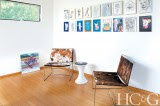 The images below are details of two recent works.